Finding the proper Calibration Service Provider has become even more crucial and necessary in an ever-changing environment where precision production has become the new normal. How do I know when to calibrate my equipment and devices, and where should I ship them, is a growing concern. This topic becomes much more relevant when you consider the expense of downtime caused by a lack of the equipment and instruments essential for your production process.
Choosing The Best Fit For Your Calibration Requirements
When selecting a Calibration Service Company, it is critical to inquire about their turnaround time for serviced equipment. Many times, you may send your tools and instruments out and wait up to a month or more for them to be returned. When trying to satisfy today's high production demands, very few manufacturers can remain without a tool or instrument for that length of time.
Importance of Calibrating Tools and Instruments
Today's industrial demands may force you to postpone your calibration needs or simply not have your equipment and instruments calibrated in order to meet your customers' demanding timetables. Avoiding calibration periods for precision manufacturing equipment and instruments may be exceedingly expensive, even more so than the downtime associated with sending them out for calibration services. Precision production using out-of-calibration equipment and instruments can result in costly recalls, angry customers, and violations of your quality control processes.
Fast Calibration Service Turnaround Times
Gulf Coast Calibration takes pride in aiming to achieve the quickest lab calibration turnaround times for calibrated devices. We strive for a 5-business-day turnaround time for calibration services after receiving your gages. We frequently surpass this goal with turnaround times as short as three days, and we provide expedited services for an extra fee.
Calibration Services We Offer
Local pick-up and delivery services
Shipping and receiving services
Mobile services for calibration at your facility
Customer drop-off and pick-up services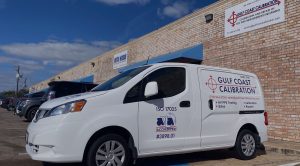 When you use our pick-up and delivery services, you can be certain that our professional drivers will keep your equipment secure and orderly. We transport them to our calibration lab and perform the necessary calibration procedures.
When you ship your instrument to us, we receive it and, in many cases, transport it to our accredited lab the same day. In our calibration lab, we then apply the necessary calibration procedure. Typically, the instrument calibration may be done in 1 to 3 business days and returned to our customer via the customer's preferred delivery method.
Call us to discuss your calibration, test or repair needs at:
713.944.3139.