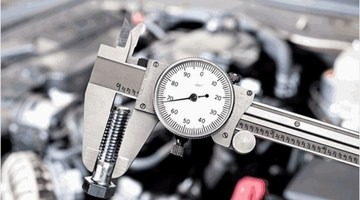 Calibration services for dimensional inspection tools entail testing and adjusting measuring devices to ensure that dimensions and tolerances are accurately measured within a specified range. A pre-calibration inspection is usually performed on the device to check for any damage or wear and tear. The measuring device is then tested by comparing its readings to known values at various measurement points within its operating range using calibrated reference standards or equipment.
Adjustments are made to correct any calibration errors if the measuring device does not meet the required accuracy levels. This may entail tinkering with the device's electronics or other components. The device is tested again after the adjustments have been made to ensure that it accurately measures dimensions and tolerances within the specified range.
When the calibration process is completed, a calibration certificate is issued. This certificate documents the calibration procedure, calibration results, and any device adjustments.
Dimensional inspection instruments Calibration services are provided on a wide range of measuring instruments, including calipers, micrometers, height gauges, dial indicators, and coordinate measuring machines. Calibration services can be provided on-site or at a calibration facility, depending on the needs of the client.
It is essential that you choose Gulf Coast Calibration, a reputable Dimensional Inspection monitor calibration service provider. We are experienced and qualified to perform calibration on your equipment. We are ISO/IEC 17025 accredited  and we use traceable calibration gas standards. We also  provide detailed calibration reports and certificates that document the calibration process, results, and any equipment adjustments.
WE CALIBRATE THE FOLLOWING EQUIPMENT'S:
Instruments

Angle Blocks & Plates

Balances

Calipers

Clinometers
Co-Ax Indicators

Comparators

Cylindrical Pin Sets

Depth Gages

Dial Bore Gages
Call us to discuss your calibration, test or repair needs at:
713.944.3139.