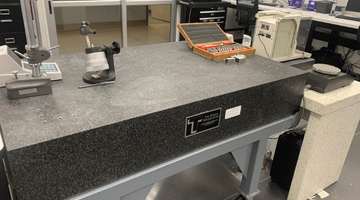 SURFACE PLATE CALIBRATION
Surface Plate Calibration is the only sure way to know you're working with a level surface and can expect accurate workmanship when using the surface plate. Surface plates wear over time and must be regularly managed to maintain flatness and high accuracy in measurement.
Gulf Coast Calibration offers Surface Plate Calibration services. Our standards are at the highest possible level, providing an elevated level of accuracy and quality. We provide these services at our climate-controlled and monitored lab or onsite at your facility.
Surface plate wear is measured by our highly skilled technicians using a computerized calibration system and differential leveling feet. This system provides dependable surface evaluation and generates detailed diagrams of measurement readings that clearly outline wear and deviation from the grade accuracy specification.
A cleaning before measurement and light polishing after surface plate calibration are among the quick and dependable services provided by Gulf Coast Calibration. Lapping or resurfacing of granite plates is provided as needed to bring measurements within grade guidelines. This method entails polishing the surface with an abrasive paste to remove any unwanted material. Our field service technicians can resurface plates to any grade required by your quality system.
Gulf Coast Calibration's surface plate calibration services are A2LA accredited, and the equipment used by our technicians is NIST-traceable. Following service, a Calibration Certificate is generated that shows grade requirements, "as found" and "as left" conditions, and a detailed explanation of the work completed to restore flatness. Based on the frequency you specify, we will send you a reminder notice when your next calibration is due