Inspection and Classification of Electrical Safety Gloves Rubber insulating gloves for electrical workers may be the most important piece of personal protection they wear. Electrical safety gloves must have dielectric properties, physical strength, flexibility, and durability to be effective. They should meet or exceed the performance and testing requirements of the ASTM International ASTM D120-21 – Standard Specification for Rubber Insulating Gloves and the International Electrotechnical Commission (IEC) 60903:2014 Live Working – Electrical Insulating Gloves standards to help ensure safety and performance.
A glove system is made up of the following components:
Rubber insulating gloves -They are classified according to the level of voltage protection they offer.
Liner gloves – These gloves alleviate the discomfort associated with wearing rubber insulating gloves. Liners provide warmth in cold weather and absorb sweat in hot weather. They can have a knit wrist or a straight cuff.
Leather protector gloves- These gloves are typically worn over rubber insulating gloves to provide mechanical protection against cuts, abrasions, and punctures.
In 29 Code of Federal Regulations (CFR) 1910.335(a)(1)(i), the Occupational Safety and Health Administration (OSHA) states, "Employees working in areas where there are potential electrical hazards shall be provided with, and shall use, electrical protective equipment that is appropriate for the specific parts of the body to be protected and for the work to be performed." 29 CFR 1910.137 specifies the design, in-service care, and use requirements for electrical protective equipment, which includes gloves.
Electrical safety gloves are classified based on the level of voltage protection they provide and whether or not they are ozone resistant.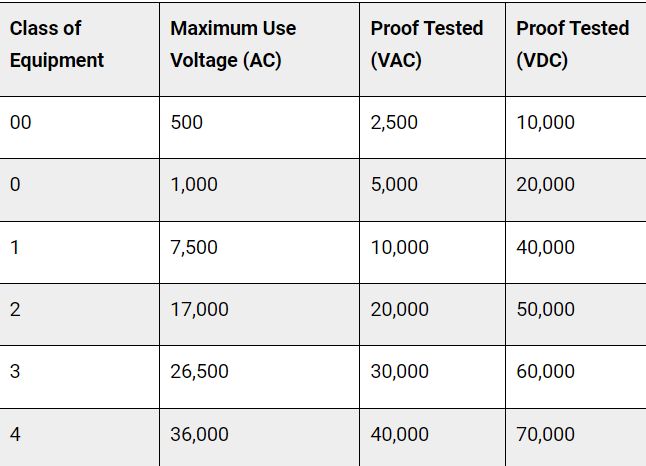 Rubber is vulnerable to the effects of ozone, which can cause cutting/cracking and jeopardize the glove's integrity. Ozone resistance is critical if the gloves are used in an environment with high levels of ozone. The "Type" designation covers ozone resistance. A Type I glove is not ozone resistant; a Type II glove is.
According to 29 CFR 1910.137(c)(2)(ii), all insulating equipment must be inspected for any damage before each day's use and immediately after any incident that can reasonably be suspected of causing damage. For the visual inspection, OSHA refers to ASTM F1236-96 (2012), Standard Guide for Visual Inspection of Electrical Protective Rubber Products. This standard was most recently updated in 2019.
According to 29 CFR 1910.137(c)(2)(iii), insulating equipment cannot be used if any of the following defects exist:
A rip, a tear, a puncture, or a cut
Cutting ozone or checking ozone (a series of interlacing cracks produced by ozone on rubber under mechanical stress)
Foreign objects embedded
Swelling, softening, hardening, or becoming sticky or inelastic are all examples of texture changes.
Any other flaw that compromises the insulating properties
An air test must be performed in addition to the inspection. ASTM F496-20 Standard Specification for In-Service Care of Insulating Gloves and Sleeves describes the air testing method. Gloves are filled with air, either manually or with a powered inflator, and then leakage is checked. Leakage is detected by listening for escaping air or by pressing the tester's cheek against the gloves to feel for escaping air. During the air test, gloves should be expanded no more than 1.5 times their normal size for Type I and 1.25 times normal size for Type II, according to ASTM F496-20. The procedure should then be repeated, but this time the gloves should be turned inside out.
Because sleeves cannot be inflated, they should be inspected as they are rolled along the edge. Rolling will stretch the sleeve along the edge, highlighting cuts, tears, and ozone cutting. After inspecting the outside of the sleeve, the procedure should be repeated with the sleeve turned inside out.
If a glove or sleeve has been exposed to chemical contaminants or is suspected of having other physical damage, it should be retested in accordance with ASTM D120-21 standards.
In addition to the daily inspection, OSHA requires that electrical safety equipment undergo periodic electrical tests, as specified in 29 CFR 1910.137(c)(2) (viii). Rubber insulating gloves must be tested before the first use and every six months thereafter; when the insulating value appears to be suspect; after repair; and after use without protectors. If the insulating gloves have been electrically tested but not issued for service, they may not be used unless they have been electrically tested within the last 12 months.
To help ensure that all gloves in use are in the proper test cycle, an alternating glove color program is recommended. This program uses one color for the first six months and a different color for the following six months to create a visual reminder of the proper test cycle.
When not in use, electrical safety gloves must be stored properly to maintain their integrity. Proper storage entails not folding them and keeping them away from excessive heat, sunlight, humidity, ozone, and any chemical or substance that could damage the rubber.