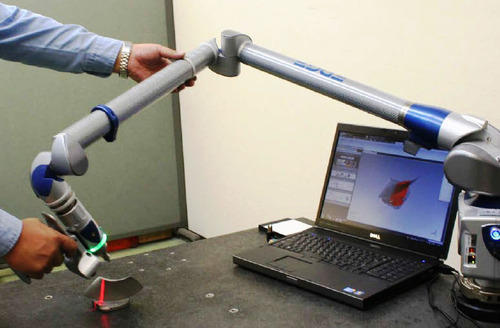 3D Laser Scanning is a non-contact method of collecting large amounts of point data from an object by using a laser light line. The points collected can then be used in a variety of ways, the most common being color mapping of a real object's deviation from a CAD model.
In reverse engineering, 3D laser scanners are used to create a CAD model from a real object. Depending on the 3D laser scanner configuration, scanned objects can be as small as a micrometer or as large as a jumbo jet.
For 3D measurement and inspection, Gulf Coast Calibration employs a number of Faro portable arm CMMs with lasers. Because the Faro arm is portable, it can be used for 3D laser scanning at our dimensional inspection lab or on-site at your location, including the shop floor. On-site 3D inspection saves time and money by eliminating the need to ship large parts or fixtures and provides immediate feedback for calibrations and adjustments.
For our 3D laser scanners, our engineers use PolyWorks as the software of choice. PolyWorks enables everything from dimensional inspection to point cloud analysis and reverse engineering without the need for additional software.